Posted by: sleddriver
Q for Machinist -
04/18/14
02:08 PM
I've been trying to find a replacement "driver" for an electric yard tool I've owned for years. (For more story, click
here
. Evidently it's no longer available individually, so I decided to make one.
Here's the original part. The larger end contains splines and mates with the electric motor shaft. No problems there. The opposite end had a square shaped insert into which a steel, square shaped flexible shaft was inserted. Worked fine for 23 yrs until heat and fatigue caused the plastic corners to round over.
I inserted some set-screws in an attempt to prevent the shaft from spinning and this held for awhile. However, drilling the plastic further weakened it:
So I set up some 1" delrin (I think) rod in my Taig to turn one:
Here's the result. My taper is a bit steep at 45°. Wasn't sure how to cut a different angle. The 45 was done with a champhering tool.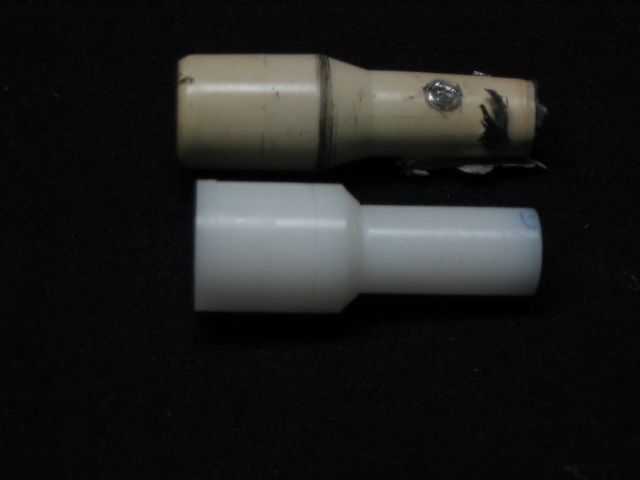 So my Q's are:
How to create splines inside the large end? Two ideas came to mind: (1) Remove the motor, position it with the spline end up, and tap the new piece with a hammer to get a 'force fit". (2) Heat the motor shaft with a torch and plunge it into the hole.
How is a round hole turned into a square one on the opposite end? Don't have any chisels that small. I could go with set-screws again, perhaps smaller ones. Or heat the flex shaft and plunge it into the round hole.
I went with plastic rod as it's what I had on hand. However, I could make the piece again from either brass or aluminum, which might hold set screws better.
I mainly use the Taig for turning pens and simple jobs. Haven't gotten into cutting tapers or dealing with splines and square holes yet. Any suggestions you could provide would be appreciated! Thanks.